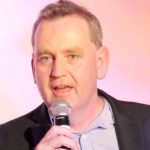 Stephen Larkin is the founder and CEO of Africa New Energies, an oil and gas exploration company with the vision of providing electricity to the 630 million Sub-Saharan Africans who currently lack it. 
"Entrepreneurs drive employment around the globe. It's a simple fact. And if we can help to inspire one entrepreneur through this website, we have done our job."

Stephen Larkin
Mr. Larkin is an African innovation expert who understands the transformative impact technologies like blockchain, Artificial Intelligence and Machine Learnng in clean energy can tap the enormous potential of Africa. He has done the maths to prove it and worked with UN-affiliated NGO's, as well as African Governments, gathering immense real-world experience.
When Stephen and his fellow Africa New Energies Directors and Board rejected a bid for $500 million dollars for the business many were shocked. Yet, Stephen was steadfast in his ethics and in his belief deep down that the business was worth more. This typifies the high potential entrepreneur with heart.
He has experience running multiple companies, various venture capital fund raises and using crowdfunding and tax breaks in innovative ways. Stephen is a true innovator.